Activities
---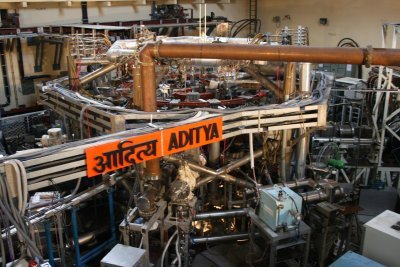 ADITYA is the first indigenously designed and built tokamak of the country. It was commissioned in 1989. ADITYA, a medium size Tokamak, is being operated for over a decade. It has a major radius of 0.75m and minor radius of the plasma is 0.25 m. A maximum of 1.2 T toroidal magnetic field is generated with the help of 20 toroidal field coils spaced symmetrically in the toroidal direction. The major subsystems and parameters of the machine have been described elsewhere.
ADITYA is regularly being operated with the transformer-converter power system. ~100 msec 80 - 100 kA plasma discharges at toroidal field of 8.0 kG are being regularly studied. During this period experiments on edge plasma fluctuations, turbulence and other related works have been conducted. Standard diagnostics have been employed during these measurements. Figure below gives a
view of ADITYA with the auxiliary heating systems attached to it.
ADITYA has been upgraded. Upgradation has been in different fronts. Vacuum system has been upgraded interms of more cleaning facilities.
As found earlier, successful breakdown and startup require compensation of the error magnetic fields in the first few milliseconds. This is accomplished using the four fast feedback coils connected to give a radial magnetic field. Recent measurements of the magnetic fields due to the TR coils and BV coils also indicate the need for compensation of the error fields. The compensation also helped in improving the operating pressure range, which has the beneficial effect of reducing hard x-rays during the discharge. Plasma current feedback on the loop voltage and vertical field also is implemented.
Some more diagnostics have been integrated and made on-line. Some are in the design/fabrication phase. To increase the plasma energy content during the discharge, auxiliary heating systems have been integrated. A 20 - 40 MHz, 200 KW Ion Cyclotron Resonance Heating (ICRH) system has been integrated to ADITYA vacuum vessel and successfully operated in the last campaign. A 28 GHz, 200 KW gyrotron based electron cyclotron resonance heating (ECRH) system has also been successfully commissioned on ADITYA tokamak. Some neural network analysis to predict disruptions and density limit on ADITYA have also been performed.
Steady State Superconducting Tokamak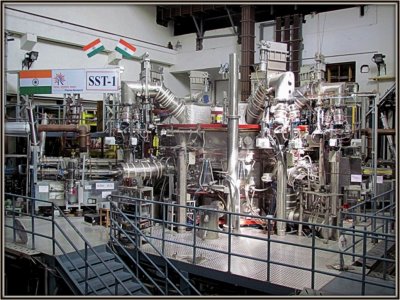 A steady state superconducting tokamak SST-1 is under design and fabrication at the Institute for Plasma Research. The objectives of SST-1 include studying the physics of the plasma processes in tokamak under steady state conditions and learning technologies related to the steady state operation of the tokamak. These studies are expected to contribute to the tokamak physics database for very long pulse operations. The SST-1 tokamak is a
large aspect ratio tokamak
, configured to run double null diverted plasmas with significant elongation (k) and triangularity (d).
The specific objective of the SST-1 project is to produce 1000 s elongated double null divertor plasma.There are several conventional questions in tokamak physics, which will be addressed again in steady state scenario. Some of these are related to the energy, particle and impurity confinement, the effect of impurities and edge localized modes (ELM) in steady on energy confinement, the stability limits and their dependence on current drive methods, the resistive tearing activities in presence of RF fields, disruptions and vertical displacement events (VDE), and thermal instability. In steady state operations non-inductive current drive will sustain the plasma current. Different aspects of current drive such as different current drive methods and their combinations, current drive efficiency, profile control and bootstrap current, will be studied. An efficient divertor is required for the steady state operations with elongated plasma. Various aspects of divertor operation such as steady state heat and particle removal, erosion and particle recycling, radiative divertors and pumped divertors will be studied. Advance tokamak regimes are of prime interest in fusion research. These regimes are characterized with high
bN
and high bootstrap current, and are generally obtained in high (H-mode) and very high (VH-mode) confinement modes in plasma with high triangularity, elongation and large negative shear. Although SST-1 is not optimized for advanced tokamak regimes, we propose to attempt some experiments in this direction with in the limitations of the machine.
The choice of the parameters is dictated by the technological and physics goals. NbTi superconductor at 4.5K is used for the superconducting magnets and maximum field at the conductor is restricted to 5.1 T. Low aspect ratio machines are difficult to design using superconducting coils due to space restrictions. Furthermore, higher aspect ratios have the advantages such as high bootstrap current, better confinement etc. We have, therefore, opted for large aspect ratio (~5) in SST-1. Other Tokamaks have observed substantial improvement in confinement (VH mode) and b
N
with higher triangularity (d~0.4-0.8). Elongation improves the current carrying capacity of the plasma. With elongation in the range of k~1.6-2.0 improvement in
bN
has been observed.
We have, therefore, chosen a range of k and d similar to these ranges
. The double null configuration allows for the distribution of power between larger number of divertor plates thus reducing the heat load per plate. We have, therefore, selected double null configuration, with a provision to go to single null operations in future.
The machine has a major radius of 1.1 m, minor radius of 0.20 m, a toroidal field of 3.0 T at plasma center and a plasma current of 220 kA. Elongated plasma with elongation in the range of 1.7 to 1.9 and triangularity in the range of 0.4 to 0.7 can be produced. Hydrogen gas will be used and plasma discharge duration will be 1000 s. Auxiliary current drive will be based mainly on 1.0 MW of Lower Hybrid current drive (LHCD) at 3.7 GHz. Auxiliary heating systems include 1 MW of Ion Cyclotron Resonance Heating (ICRH) at 22 MHz to 91 MHz, 0.2 MW of Electron Cyclotron Resonance heating (ECRH) at 84 GHz and a Neutral Beam Injection (NBI) system with peak power of 0.8 MW (at 80 keV) with variable beam energy in range of 10-80 keV.
Superconducting (SC) coils for both toroidal field (TF) and Poloidal Field (PF) are to be deployed in the SST-1 tokamak.
An ultra high vacuum (UHV) compatible vacuum vessel, placed in the bore of the TF coils, houses the plasma facing components (PFC). A high vacuum cryostat encloses all the SC coils and the vacuum vessel. Liquid Nitrogen (LN
2
) cooled thermal shield between the vacuum vessel & SC coils as well as between cryostat and the SC coils reduce the radiation heat load on the SC coils. Normal conductor ohmic transformer system is provided to initiate the plasma and sustain the current for initial period. A pair of vertical field coils is provided for circular plasma equilibrium at the startup stage of the plasma. A set of saddle coils placed inside the vacuum vessel provide fast vertical control of the plasma while PF coils are to be used for shape control. Other subsystems include radio frequency (RF) systems for pre-ionization, auxiliary current drive and heating, neutral beam injection (NBI) system for supplementary heating, cryogenic systems at liquid helium (LHe) and LN
2
temperatures, chilled water system for heat removal from various subsystems. A large number of diagnostics for plasma and machine monitoring will be deployed along with a distributed data acquisition and control system.
Basic Plasma Physics Experiments

A number of basic plasma physics experiments are operational in IPR. Some of the major experiments are Large volume plasma device (LVPD), Non-neutral toroidal plasma, Dusty plasma experiments, plasma nitriding studies, plasma immersed ion implantation, anode arc studies, radio frequency experiments etc.
In the LVPD experiments, detailed studies are being carried out on excitation and propagation of whistler waves. In the FEL experiment, sheet relativistic electron beam is propagated through a fifty period electromagnet wiggler and radiation in microwave ferquency range is observed. Study of dicotron instability and electron cloud behavior in toroidal magnetic field is done in non-neutral plasma experiment. Excitation of dust acoustic waves, formation of coulomb crystal etc is studied in dusty palsma experiments. Physics of plasma -surface interaction and wave-particle interaction is studied in plasma nitriding and rf experiments respectively.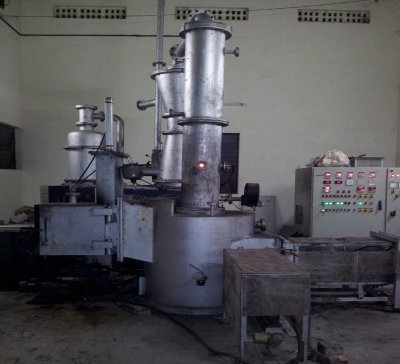 The
Facilitation Centre for Industrial Plasma Technologies
links the Institute for Plasma Research with the industry. The knowledge base in plasma sciences and associated technologies is exploited to generate advanced plasma based technologies for material processing and environmental remediation.
FCIPT was set up in 1997 to promote the commercial exploitation of IPR Plasma technologies through development, incubation, demonstration, manufacturing and transfer. The Centre has process development and instrumentation laboratories, jobshops, material characterisation and manufacturing facilities. Advanced plasma process development is realized by validation experiments, scale-up and setting up pilot plants. A number of prototype reactors are available to develop a new idea rapidly from concept to products. Incubation and demonstration of a new technology is carried out in the jobshop to promote the industrial acceptance of plasma based technologies and to generate techno-commercial data relevant to entrepreneurs. The jobshop executes jobwork for surface and material treatment on an industrial scale. The material characterization facility, consisting of advanced instruments is open to users from industry, research establishments and universities. Manufacturing of advanced plasma reactors is another activity crucial to successful commercial transfer of technologies.
FCIPT has a multi-disciplinary team of scientists and engineers with expertise in plasma physics, plasma chemistry, metallurgy, material sciences, power electronics and instrumentation.
All the above activities under a single roof provides an ideal environment for the Centre to offer a complete package of industrial technologies and facilitation services to industries interested in the adoption of indigenous technologies.