Colloquium295
Scientific Computing Infrastructure and related R&D activities at IGCAR
By R. Jehadeesan ,Indira Gandhi Centre for Atomic Research (IGCAR)
Thursday, July 11th 2019 at 3:30 PM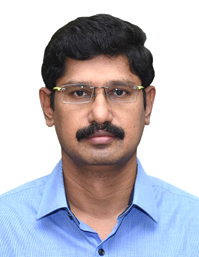 The talk gives an insight into the supercomputing clusters and other high-end systems designed to meet the large-scale numerical and visual computing requirements of IGCAR and the secured Virtual Desktop Solution implemented using ultra-thin clients and data centre to meet the desktop requirements of users. It also briefly depicts the R&D activities pursued in development of Operator Training Simulator, IT-enabled Nuclear Knowledge Management system, applications of Computational Intelligence systems for knowledge discovery, text mining and design optimization problems.
Shri
R. Jehadeesan
completed his
engineering graduation
in
Computer Science and Engg.
from Madras University in 1993. Then he acquired the post-graduate qualification of
M.S. (Software Systems)
with distinction from BITS, Pilani.
He joined IGCAR, DAE in 1996 as Scientific Officer and has more than 23 years of experience. He is presently heading Computing Division, leading the teams working in the areas of High-performance computing, Data communication & Information security, Computational Intelligence Systems, Simulator, Wireless Sensor Networks and Knowledge Management.
He was instrumental in establishing scientific computing facility with supercomputing parallel clusters, DAEGrid, high-end servers and advanced application software to meet the large-scale computing requirements of the centre. He is well experienced in cyber security management and the nodal person for designing and implementing the cybersecurity systems & solutions to protect the critical digital assets. He played the leading role in establishing IT-enabled nuclear knowledge management system for the organization. He made vital contributions to the development of full-scope replica operator training simulator for fast reactor, verification & validation of digital I&C systems and deployment of wireless sensor networks for nuclear & societal applications. He has expertise in computational intelligence methods (ANN, Fuzzy and GA) and successfully applied to various applications like fast reactor event/transient identification, reactor core optimization studies and knowledge discovery.
He is a recipient of DAE (Excellence in Science, Engineering & Technology) Group achievement awards in 2011 & 2012. His current research interests include AI/ machine learning, data science/analytics and cyber defence. He has more than 20 years of experience and has about 60 journal/conference papers and 35 technical reports to his credit.