KIIT 2021
Training Programme At Bhubhaneswar : Dec 2021
---
As part of the AKAM activities, IPR Outreach Division undertook several training programmes between 20-24 December, 2021 in "Plasma & its Applications and Energy from Nuclear Fusion" under the auspices of the
Indian Science Congress Association, Bhubaneswar Chapter
, at the Kalinga Institute of Social Sciences, Bhubaneswar, for science teachers, research scholars and high school students of
Kalinga Institute of Industrial Technology (KIIT-DU), Bhubaneswar

Kalinga Institute of Social Sciences (KISS-DU), Bhubaneswar

Kalinga Institute of Medical Sciences (KIMS), Bhubaneswar

Kalinga Institute of Dental Sciences (KIDS), Bhubaneswar

Ravenshaw University, Cuttack
The training programme for teachers and students had popular talks and hands on exhibits of various types of plasma, its applications and models of a generic tokamak. Teachers and research scholars from KISS-DU and KIIT-DU, teachers and students from Trident Academy of Technology, College of Engineering & Technology, Bhubaneswar, Bhadrak Autonomous College, and P.N. College and Haladia College, Khordha attended the programme.
The training programme as well as the hands-on exhibits on plasma were both inagurated by Prof. Ashoka Kumar Das (Ex-BARC), Vice-Chairperson, Odisha State Higher Education Council.
Talks and hands-on experiments were delivered by members of IPR Outreach Division. 14 experiments/exhibits were transported to Bhubaneswar from IPR for this event. Over 600 tribal students studying in the 9, 10, 11 and 12th standards of KISS-DU also attended a special lectures on plasma and spent time interacting with IPR Outreach staff and the interactive experiments across two days.
Images & Videos of the Event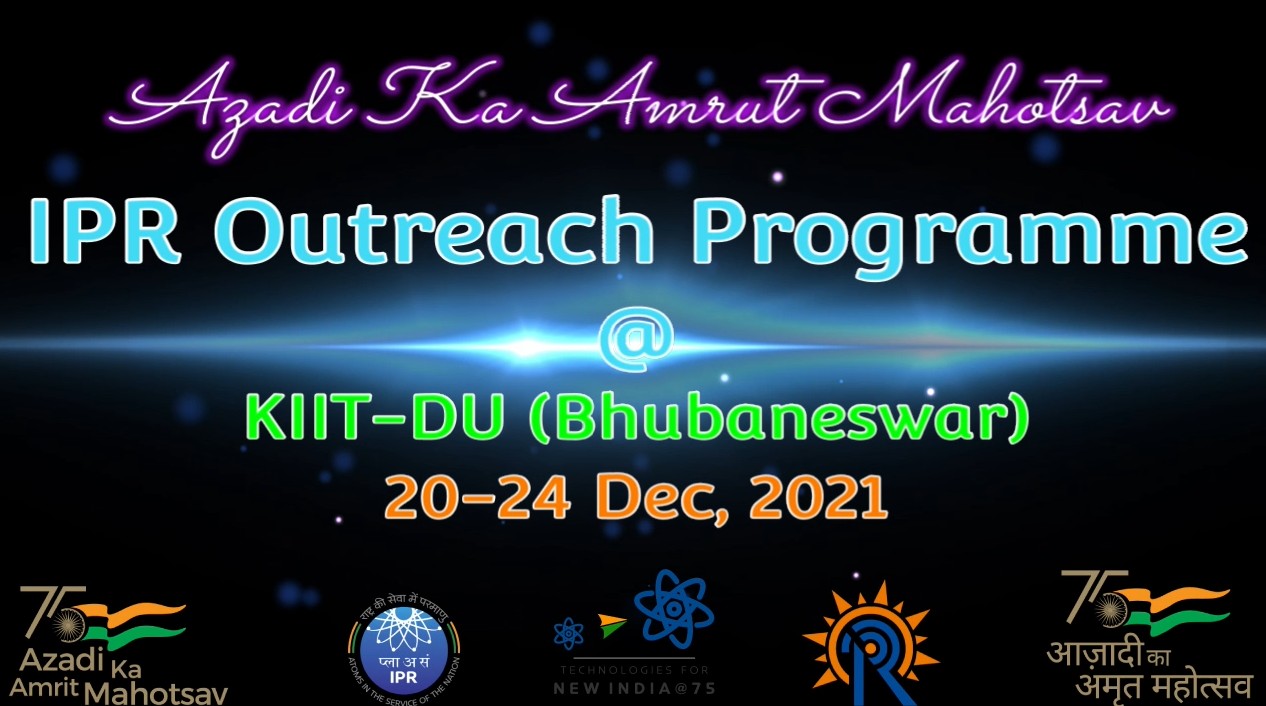 Click to view video of interactive exhibits
UG/PG students, researchers/teachers

KITT-DU, KISS-DU, Bhubaneswar

Trident Academy of Technology, Bhubaneswar

College of Engineering & Technology,Bhubaneswar Bhadrak Autonomous College, Bhadrak

UG/PG students, researchers/teachers

Ravenshaw University, Cuttack

The hands-on plasma experiments
Inaguration of the Programme

Release of the book on plasma




Dr. A. K. Das, Vice Chair Person,

Odisha State Higher Education Council

Dr. Deepak Kumar Behera

(VC, KISS-DU)

Dr. Ravi A.V. Kumar

Outreach, IPR




Inaguration of the Hands-on Exhibition

Dr. A. K. Das inagurating the hands-on exhibition and viewing the exhibits

Dr. A. K. Das and Dr. D. K. Behra viewing the exhibits

Dr. A. K. Das and Dr. D. K. Behra viewing the exhibits
Training Programme at KISS-DU

Students of KISS-DU

Teachers from KITT, KISS and other colleges





































Students of KISS-DU









PG Doctors from KIMS and KIDS

Students from Ravenshaw University

Students from Ravenshaw University
---
© IPR, 2017-22